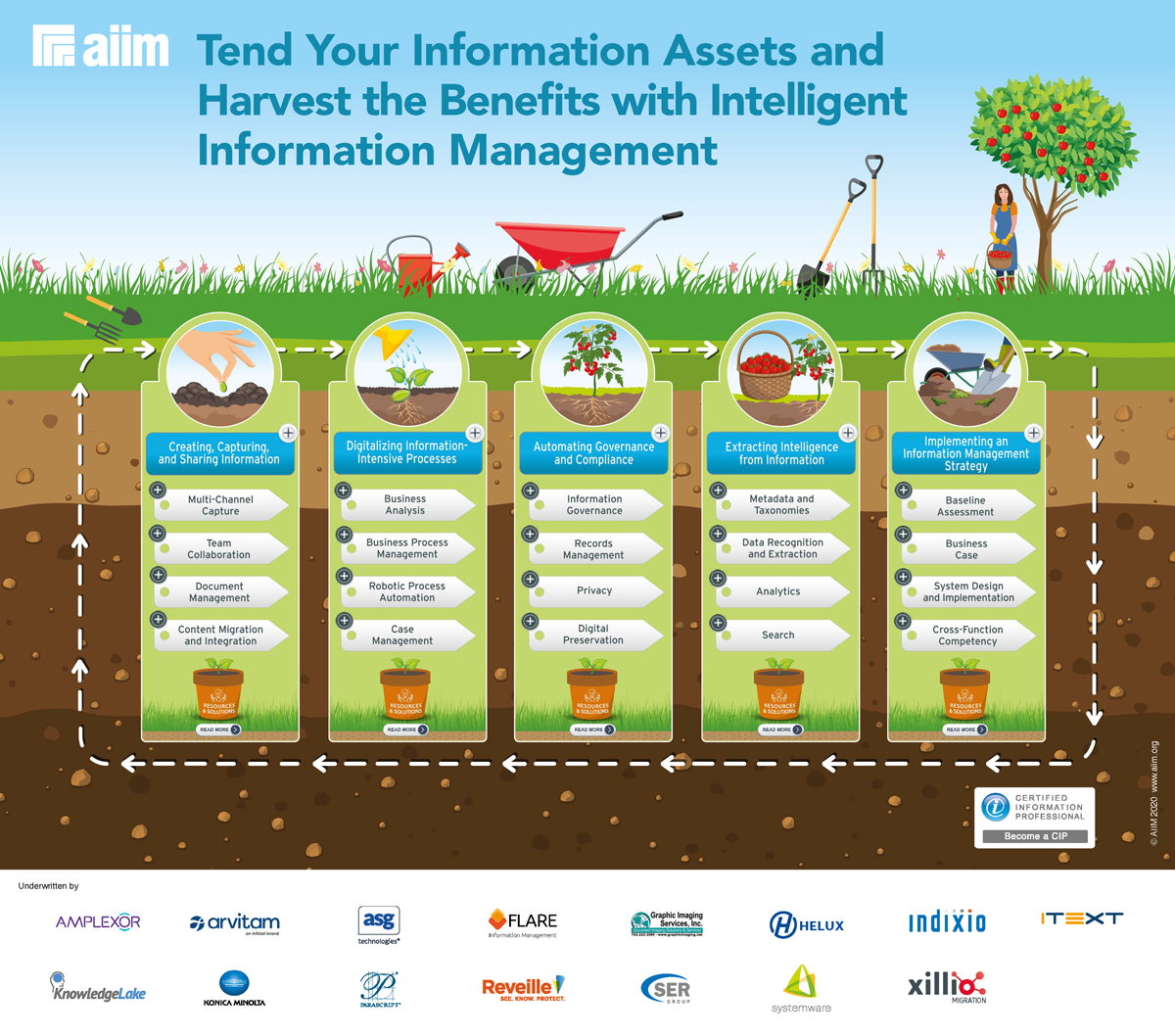 If you're not familiar with Intelligent Information Management, or IIM, as defined by AIIM is a practice that integrates people, processes, information, and technology to achieve digital transformation. Reveille recently partnered with AIIM to explore the benefits and process involved in growing an IIM program. The result, Tend Your Information Assets and Harvest the Benefits with Intelligent Information Management, is an interactive infographic that provides insight into the 5 steps to sowing the seeds for a successful IIM initiative and resources to help you achieve each stage of growth.
5 Steps to Intelligent Information Management
Here's a summary of the steps to growing a successful IIM program.
Step 1: Creating, Capturing, & Sharing Information
Collectively, creating and capturing information form the first step in the intelligent information management lifecycle. Indeed, it sets the stage for everything that follows. Organizations implement information management systems in support of creating, capturing, and sharing information and ensuring its usefulness to the organization.
Reveille helps you monitor and manage your service levels, performance, and operating metrics for core ECM components such as capture, document management, migration, hybrid, and more.
Step 2: Digitalizing Information-Intensive Processes
IIM calls for a fundamental rethinking of how we approach key business outcomes. It requires that information be digitized and that work processes be developed, or reworked, with a focus on digital-first and automation wherever possible. And it requires that organizations adopt a posture of agility and responsiveness rather than one of passivity and reactivity.
Step 3: Automating Governance and Compliance
To be effective, organizations have to embrace the approach of "streamline and automate." Governance and compliance tasks need to be made as simple as possible (but no simpler). And they need to be automated to the maximum extent possible – to the point where users have no idea that things like information security and records management are even happening.
Reveille provides clear answers to some of the toughest audit questions with detailed reports on user behavior, application performance, and more to ensure compliance and content security. Reveille helps protect your most valuable digital assets to show how content is being accessed by internal and external users to know when bad behaviors happen.
Step 4: Extracting Intelligence from Information
This is the gateway for leveraging and exploiting information in support of the organization's goals and objectives. Information needs context, and we need to provide that context in a way that doesn't burden users but instead supports them.
The tools and processes that serve business needs and outcomes can offer significant benefit in terms of understanding information in new ways and in being able to leverage that intelligence to drive innovation and the customer experience.
Streamline and automate notifications for any enterprise content applications that Reveille is actively observing and monitoring with integration into IT Operations Management (ITOM) toolsets and incident management systems.
Step 5: Implementing an Information Management Strategy
Digital transformation is about doing things differently – and doing different things as well. And different not just for the sake of being different, but in support of the key strategic objectives facing every organization in the age of digital disruption. In other words, digital transformation is not about incremental process improvement. Digital transformation is about using information in brand new ways.
Organizations need to focus on how to effectively monetize their information assets, directly or indirectly, to move the organization forward. Information management must become a business enabler, to support Cloud migration and digital transformation. Implementing the right information management strategy will allow this to progress.
Reveille keeps you in the know by providing baselines for users, transactions, and resource consumption in on-premises and Cloud environments. It helps you actively manage and plan growth impact, communicate solution value, and minimize support resources.
Explore the IIM Process with this Interactive Infographic
While this provides a good summary of the process, download the interactive infographic to drill into each step in detail and discover resources to aid you in your IIM growth.