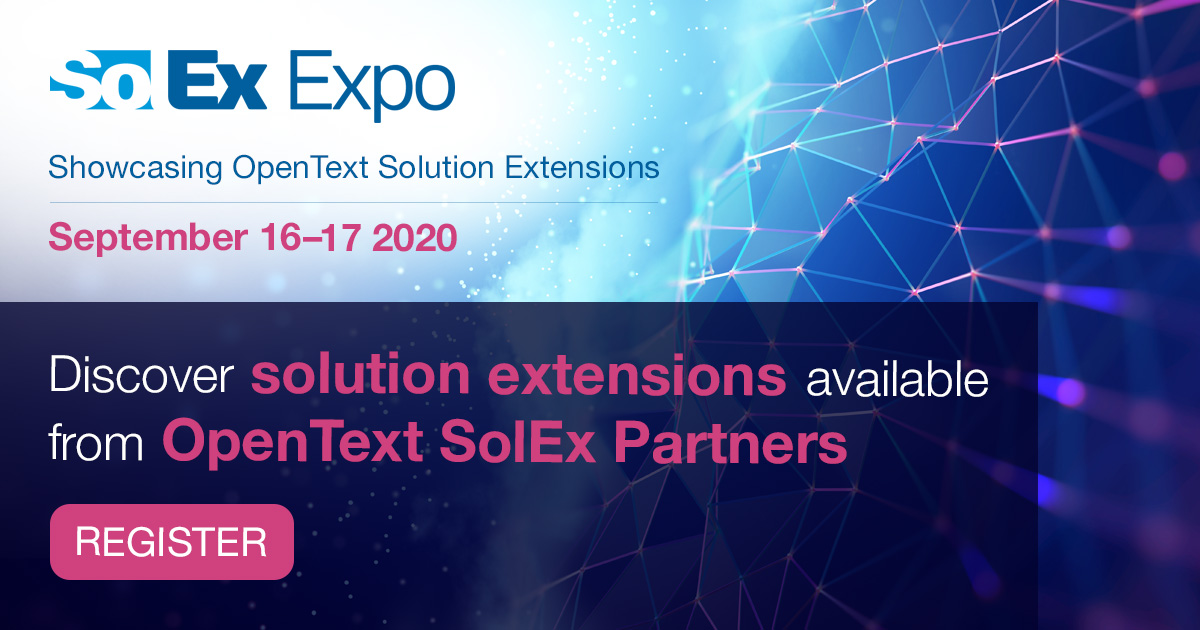 Reveille is a sponsor of the new SolEx Expo, a two-day virtual conference for OpenText users worldwide on September 16-17, 2020. SolEx Expo is the first independent conference for OpenText users organized by members of the OpenText Solution Extension (SolEx) program.
Why Attend?
Learn how to optimize your business processes, transform personal productivity, implement regulatory and governance controls, and solve complex business challenges using SolEx products/services.
Find out more about solution extensions available from OpenText partners.
Extend the capabilities of your existing OpenText product(s).
Maximize the return on investment on your OpenText solutions.
Connect with the SolEx community.
Join Us for Our SolEx Expo Sessions on Digital Transformation
Reveille will be presenting multiple sessions at SolEx Expo on digital transformation, to partial or full move to the cloud, in the wake of remote work to ensure reliability, availability and security of content stored in your OpenText platforms. Join Reveille for the following sessions, offered multiple times for your convenience, during this 2 day event:
Wednesday, Sept 16 @ 2:00 PM │ Thursday, Sept 17 @ 7:00 AM
Recent global events and technology maturity is changing Digital Transformation and is impacting the way enterprises interact and share critical high-value content. Organizations are at various stages in the process – from capturing and digitizing content, to implementing enterprise content management (ECM) and content services platforms (CSP), to developing a comprehensive strategy that includes robotics process automation (RPA) and artificial intelligence (AI).
Join this session to learn management practices and approaches that leverage cloud-ready, multi-platform, technologies to ensure reliability and security of information assets that are essential to enabling your long-term digital transformation strategy. We will discuss key themes, approaches, and KPI's to gain visibility, operational oversight, and control of your most critical content applications at every stage of your digital transformation journey.
Wednesday, Sept 16 @ 6:00 PM │ Thursday, Sept 17 @ 11:00 AM
Now that your Digital Transformation plan has been improved to reflect go forward technologies (AI, RPA) and new global business conditions (COVID- 19), what business take steps are needed to implement a digital transformation strategy? How does this impact you? What steps do you need to take to execute on this broader strategy? Information Management is the core of digital transformation strategies and you can't afford to be blind to issues that can affect the reliability and security of essential content-based business applications that drive revenue. How do you address these evolving challenges and ensure you can see, know, and protect your content applications and services across your enterprise?
In this session, we will explore best practices for implementing your digital transformation strategy and outline success stories of how peer organizations have met these challenges and achieved great improvements by leveraging real-time data to optimize business processes, improve information management, and become a more intelligent, connected enterprise to better serve their customers.
Register for the SolEx Expo to Attend Our Sessions, It's Free
Reserve your free ticket to enter the SolEx Expo and register for Reveille's sessions.