Are Your Content Services Really Cloud Ready?
To assess various cloud content services provider options, you need to understand the operating and user activity metrics of your current content services applications. Otherwise you will be making decisions based on perceptions versus objective cloud readiness metrics. This information plays an important role across all key phases of a cloud migration project — from the early planning stages of a cloud migration project, throughout the cloud migration process, and after the cloud deployment management.
Planning and Management Considerations for Cloud Readiness
This brief outlines the key questions and metrics you need to answer to build the foundation for a successful migration of content services to the cloud.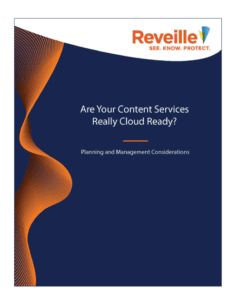 Read the brief to learn:
Key areas to prioritize to build a foundation for success
Questions to ask to assess your readiness and needs
Why understanding current content services baseline metrics is essential to long-term success